Aydıncık Beach Boutique Hotel
Aegean Hospitality
Office  

Tornavida Design 

Type  

New Construction 

Role  

Design · Regulatory drawings 

Budget  

1.5 million ₺ 

Size  

500 m² 

Location  

Aydıncık, Gökçeada · Ίμβρος 

Year  

2012
This 16-room hotel is located on the Aegean island of Gökçeada along Aydıncık beach, renown among wind and kite surfers who come almost year-round from the Balkans and Europe. The area more generally is also frequented by Australians and New Zealanders who annually mark the anniversary of the Gallipoli landings on Anzac Day. The wind at Aydıncık is funneled over a large mudflat on a peninsula which, on the leeward side, produces a strong, steady offshore wind while the water has a glass flat surface.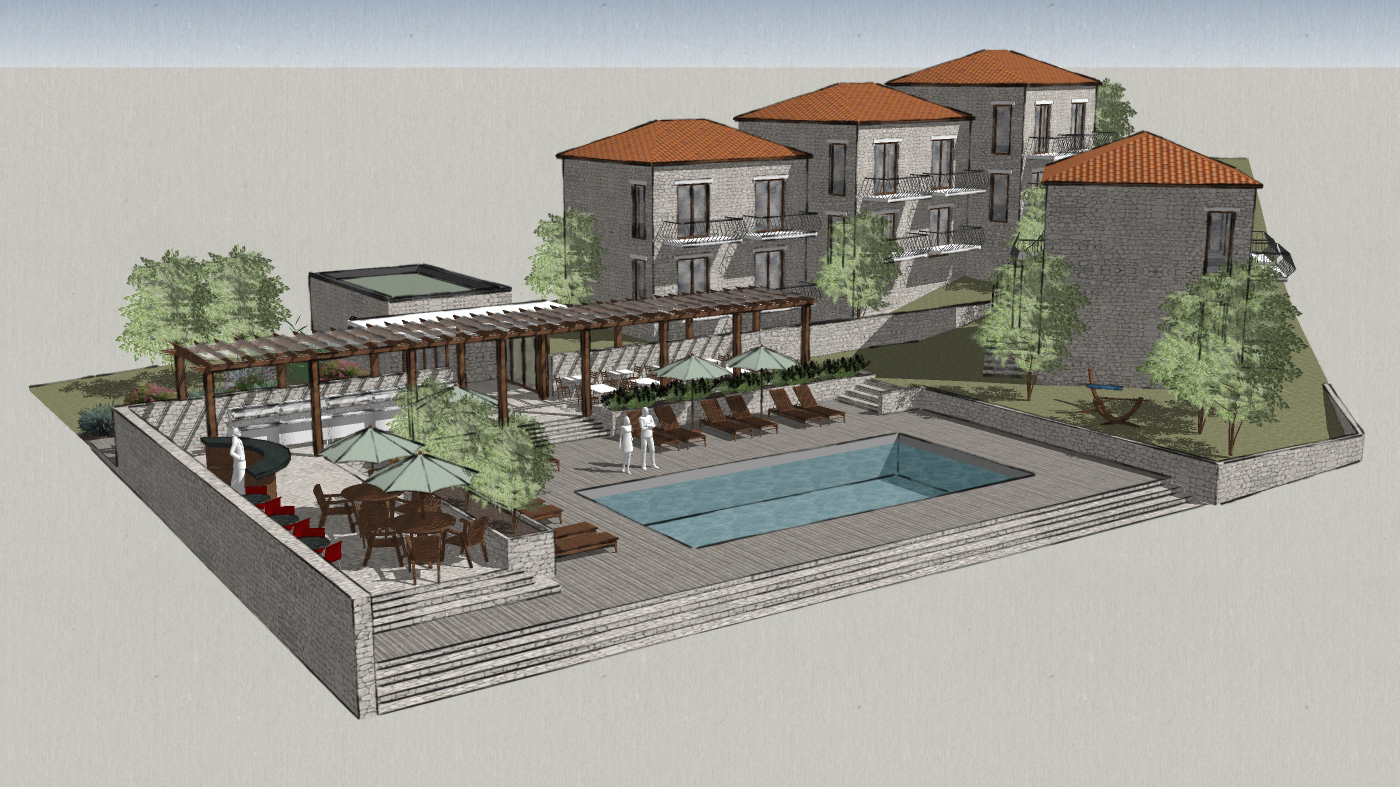 The project sets a precedent for socially and environmentally responsible and contextually sensitive construction in an area newly slated for touristic development. While the proportions and materials are sensitive to the Northern Aegean vernacular and while some aspects of the design – such as the roof shape, pitch, and material – are prescribed by the building code, the massing and arrangement are functional, modern responses to the site and program. The buildings are stepped, following the terrain. The splayed arrangement breaks up the building mass, capitalizes on views of the beach and the Aegean, and allows most of the compact guest rooms to have windows along two walls. The site is permeable and opens to a planned plaza along the south side, and at night the area surrounding the pool serves as an outdoor bar.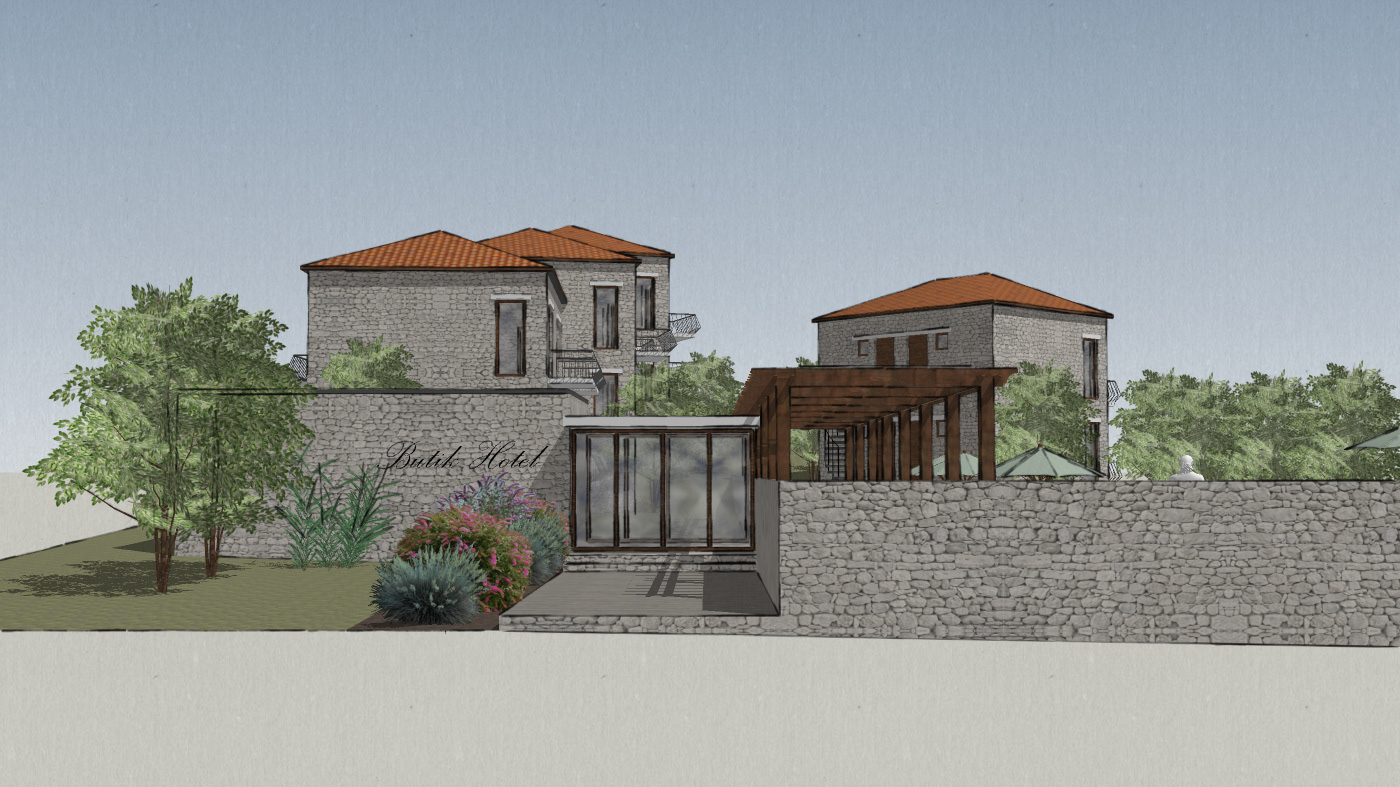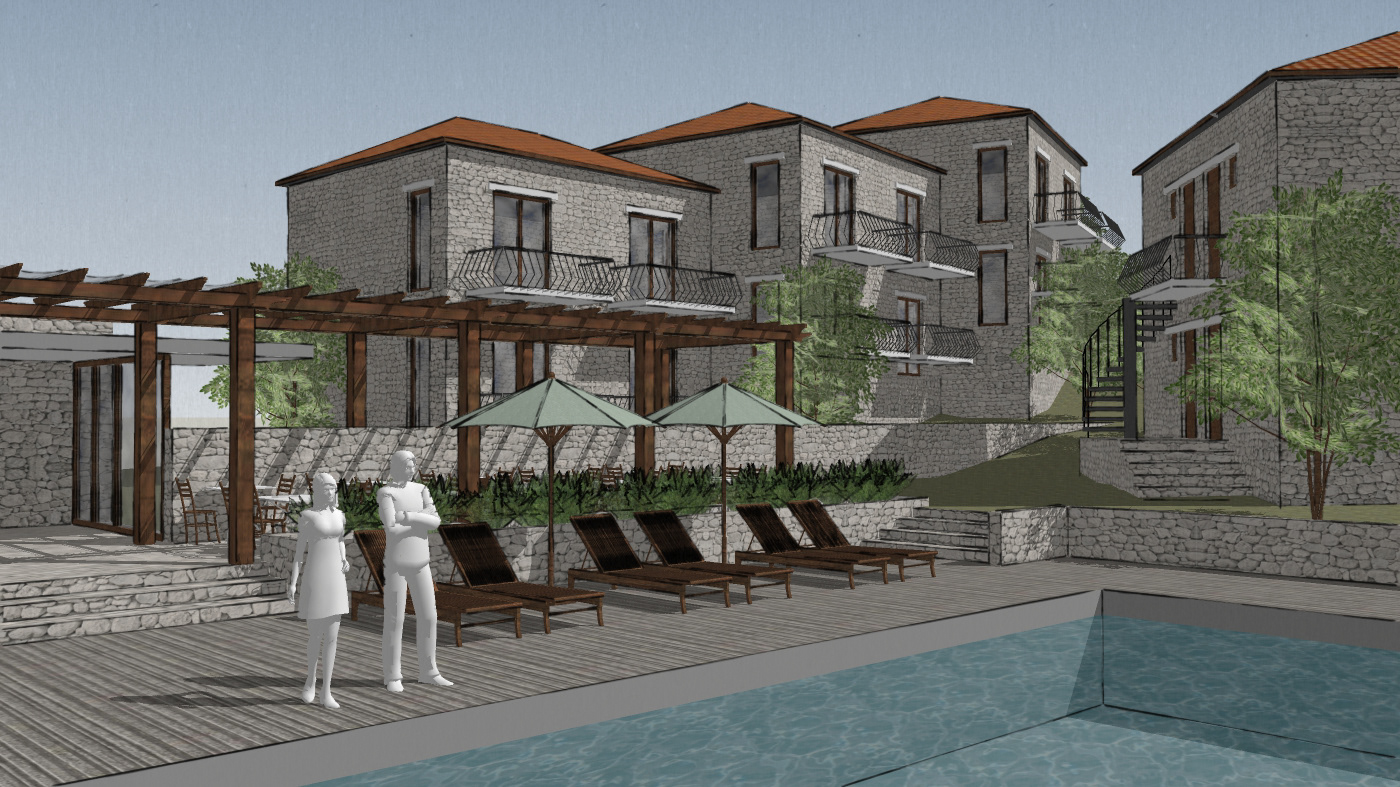 The formal entrance and the view of the guestroom buildings from the swimming pool deck.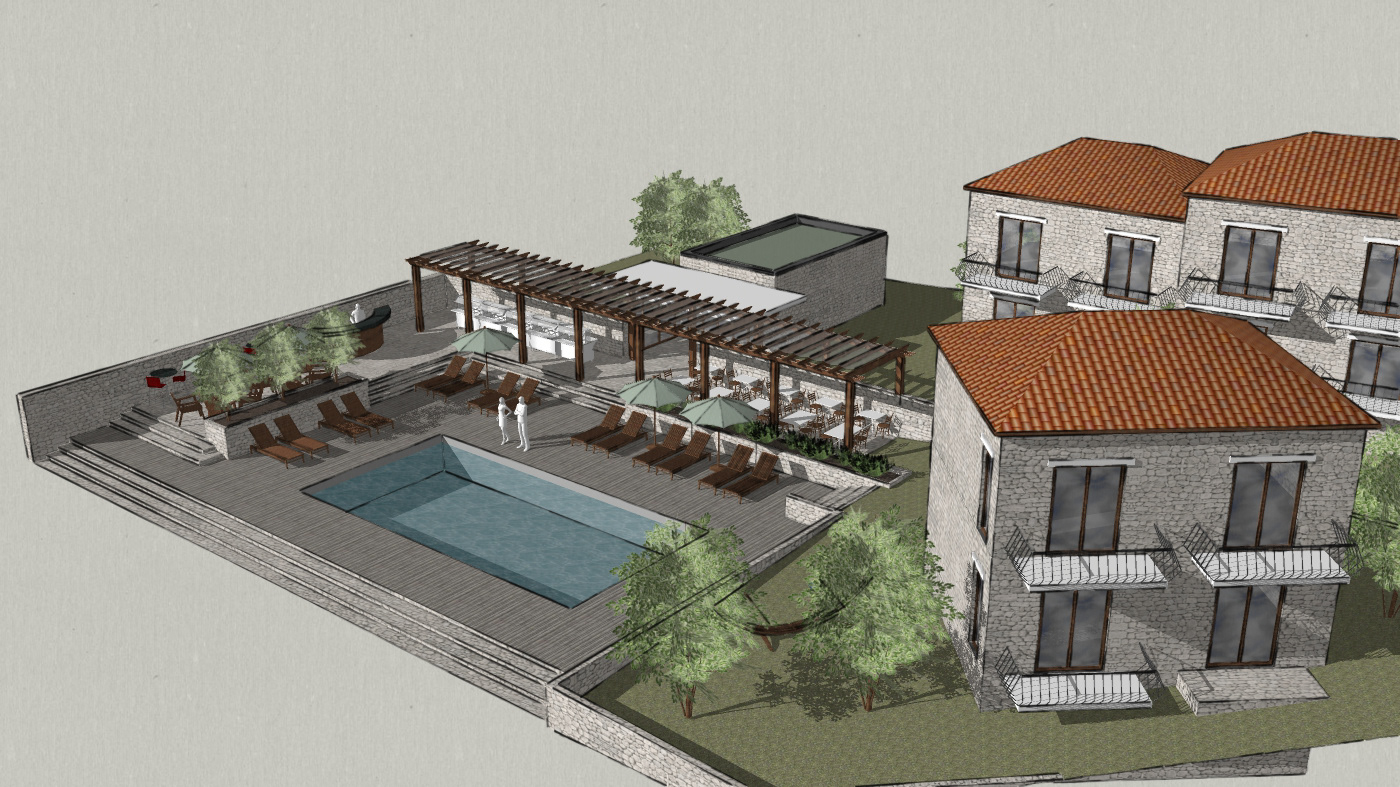 The planning was complicated by the restrictive floor area ratio specified in the zoning code, large easements, and a slope on the eastern half of the site. Stairs are external and lightweight in order that they do not count toward the floor area. Likewise, restaurant seating is
all'aperto
 under trellises and may be temporarily enclosed in cooler months.
The schematic design and subsequent regulatory drawing set were favorably received by the Gökçeada municipality and the provincial planning administration in Çanakkale.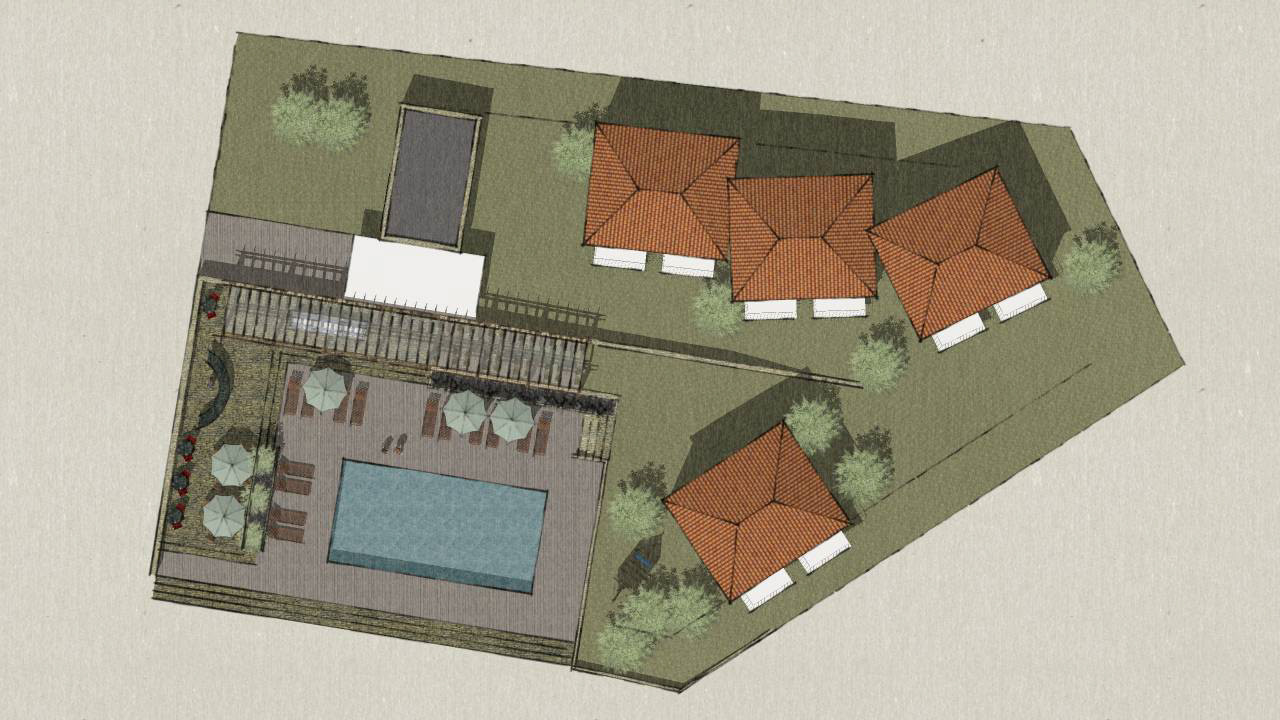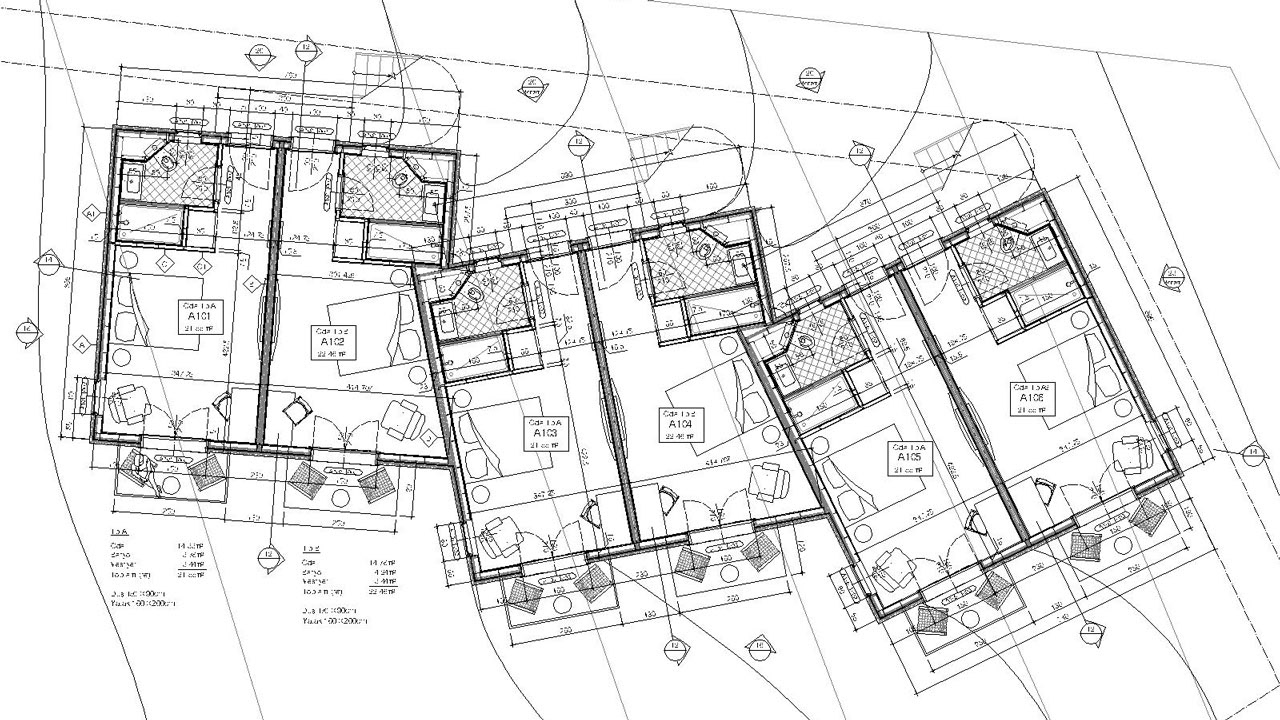 Unobstructed views of the beach and Aegean lie to the south, east, and west.